A Place Called YORKSHIP
The Submarines of New York Shipbuilding Co.
Last Update: 10 July 2009
---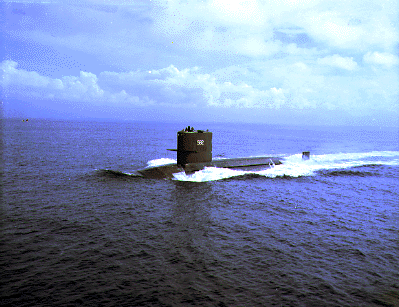 SS-582 Bonefish
New York Shipbuilding came late to the business of building submarines, with all five that it constructed laid down and launched in the last decade of its existence. Its first submarine contract was for Bonefish, the final Barbel-class design and the last diesel-electric ordered for the U.S. Navy. The yard was then called on during the early 1960s buildup of the U.S. nuclear submarine force to build three of the redesigned Thresher/Permit boats.
By the time the contract for the Sturgeon-class Pogy came along, however, the crash building program was coming to an end, and Secretary of Defense Robert McNamara was warring with Admiral Hyman Rickover and Congress over the submariners' ambitions for a 105-boat nuclear attack sub force. Though McNamara ultimately lost the fight to cap the SSN force at 60, he did succeed in cutting the production rate to just two boats a year by FY69. He also decided to take the Navy's shipyards out of the shipbuilding business.
These changes dictated a sharp contraction in the industrial base for submarine construction. In 1967, there were six shipyards (four private, two Navy) building Sturgeon-class SSNs; by 1974, only two (Electric Boat and Newport News) were left to built the new Los Angeles class. Ingalls, which completed the Pogy, delivered its last sub in 1974; the Mare Island Navy Yard, in 1972; and the Portsmouth Navy Yard, in 1971.
Pollack and Haddo were built side-by-side in Shipway J, and were the last of 118 vessels launched from J in its 60-year history. Pogy, New York Shipbuilding's last hull, was built in Shipway L--the same facility where its first, J.M. Guffey, took shape in 1900-1901. When Pogy slid down the ways on 3 June 1967, New York Ship was only days from closing its gates forever.
Designation
C#
Names(s)
(Links are to photos)
Keel Laid
Ways
Launched
Description
Notes
SS-582
515
Bonefish
Jun 03, 1957
O
Nov 22, 1958

Barbel class

Last diesel-electric boat built for the USN. Decommissioned after fire at sea while submerged 24 Apr 1988 (three killed). Scrapped Aug 1989. Web site
SSN-603
534
Pollack
Mar 14, 1960
J

New York Shipbuilding Corp.

Mar 17, 1962


US Navy photo

Thresher (Permit) class; 279' long, 32' beam, 3770 tons displacement

Stricken Mar 1989, recycled 1995.Web site
SSN-604
535
Haddo
Sep 9, 1960
J

New York Shipbuilding Corp.

Aug 18, 1962

Thresher (Permit) class
Stricken Jun 1991, recycled 1992.
SSN-612
539
Guardfish
Feb 28, 1961
L
May 15, 1965
Thresher (Permit) class
Stricken Feb 1992, recycled. Web site
SSN-647
541
Pogy
May 5, 1964
L
Jun 3, 1967

Sturgeon class; 292' long, 32' beam, 3975 tons light displacement

Contract cancelled two days after launching. Completed by Ingalls in 1971. Carried seven scientists on a 45-day research mission (SCICEX) to the North Pole in 1996. Stricken Jun 1999, slated for recycling.
C# = New York Shipbuilding contract number
---

to Yorkship: The Ships

your Yorkship memories to Michael Kube-McDowell, Class of '68