A Place Called YORKSHIP
In Search of a Profitable Concern - The Owners
Last Update: 23 Jul 2009
---
Henry Clay Frick, Henry Walters, and Andrew W. Mellon (1899-1916)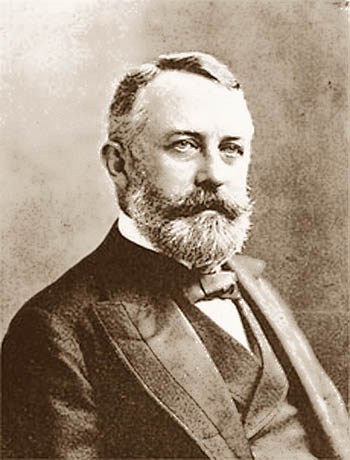 The original $3 million capitalization for Henry G. Morse's revolutionary shipyard came largely from tycoons Henry Clay Frick of Pittsburgh and Henry Walters of Baltimore. Frick had earned his fortune selling coke to the steel mills of Andrew Carnegie, and earned his reputation as "the most hated man in America" for his part in the 1892 Homestead Steel massacre and the 1889 Johnstown flood. The comparatively retiring Walters was president of the Atlantic Coast Line railroad.
In 1900, Frick secured an additional $3 million for NYSB at a private conference to which he invited the likes of Henry Phipps, Jay Phipps, and Andrew Mellon. Mellon would become--with Frick and Walters--one of NYSB's three principal owners, and his investment dovetailed with his other business interests. As one of Mellon's biographers described it, "New York Shipbuilding built Gulf tankers out of Union Steel, all financed and insured through Mellon companies."
When Mellon sold his stake in New York Shipbuilding in 1916, he received $13 million for his shares.
American International Corporation & W.R. Grace & Co. (1916-1925)
Two of the more notorious commercial enterprises of the 20th century shared ownership of New York Shipbuilding during the World War I boom years--American International Corporation, the $50 million conglomerate created as a global investment vehicle for American banking interests, and W.R. Grace & Co. AIC purchased Pacific Mail Steamship Company in 1915 and International Mercantile Marine Co in 1916, and would form American International Shipbuilding Corporation to build the Hog Island shipyard and all of its production under a wartime contract. W.R. Grace & Co.'s interests included the Grace Line
On 28 November 1916, AIC, International Mercantile Marine, and W.R. Grace & Co. organized the New York Shipbuilding Corporation to take over the assets of their recent purchase, the New York Shipbuilding Company. The corporation was capitalized at $35 million. Under the terms of ownership, the three shipping lines among the owners' interests were given first claim on NYSB's shipways--a promise soon obviated by World War I.
In December, 1916, the Corporation issued 200,000 shares at no par value, with the initial offering 60,000 shares at $47.50 per share.
American Brown Boveri (1925-1928)
On August 21, 1925, Chairman P.A.S. Franklin announced that shareholders representing a majority of NYSB stock had given an option on their holdings to Laurence R. Wilder, representative for Brown-Boveri interests of Switzerland. The option price was $45 per share.
Brown Boveri's 75th anniversary book doesn't even allude to its American subsidiary until this passage on page 213: "Except for a not very successful attempt in the USA, Brown Boveri did not undertake any production overseas until after the second World War...", and the entire history is confined to a single paragraph on page 233:
"With the collaboration of a number of influential American personalities, several small firms were to amalgamate in order to offer customers complete installations. It was hoped that, by doing so, they would be able to compete with the larger American companies. In October 1925, at the instigation of L. Winder [of the Scintilla agency], the American Brown Boveri Corporation (ABBEC) was formed. The core of this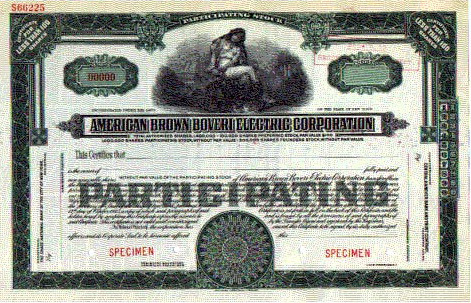 undertaking was the New York Shipbuilding Corporation with workshops in Camden, New Jersey. During the war this company had built numerous ships and their machines, but they now wished to turn their attention to the construction of steam turbines, large generators and transformers, as well as rectifiers and traction equipment. For the manufacture of switchgear the Conduit Electrical Manufacturing Corporation in Boston was brought into the organization, while the Pittsburgh Transformer Company and the Moloney Electrical Company in St. Louis were to make medium and small transformers, respectively. Brown Boveri, Baden, granted the appropriate licenses to these companies and took over he majority share in the capital of ABBEC. Though the collaboration with these undertakings was soon running well, the import restrictions imposed during the slump in 1929 were so severe that it became almost impossible to continue to import material from Baden. The electrical departments of our licencees were very hard hit by the crisis. The financial situation deteriorated to such an extent that, at an American suggestion, the electrical departments were sold to Allis Chalmers Manufacturing Company in Milwaukee and the connection with the New York Shipbuilding Corporation was severed."
--75 Years Brown Boveri, Brown, Boveri & Co., Ltd, 1966
According to the New York Times, on June 26, 1928, American Brown Boveri sold "the shipbuilding division of the corporation to Laurence R. Wilder, who is the head of that division." Other accounts use the word "lease," and give the "newly organized" New England Transoceanic Co. as the new owner.
Errett Lobhann Cord (1933-1937)
On 4 August 1933, industrialist E. L. Cord had acquired a controlling interest in New York Shipbuilding Corporation with a $2 million purchase of stock at the Depression-era fire-sale price of $20 per share. Other transportation interests held by the Cord Corporation included Auburn Automobile Company, Lycoming Engines, Duesenberg, Checker Cab, Stinson Aircraft Company, Kansas City Southern Railroad, and American Airways.
One day after Cord took over NYSB, the shipyard received orders worth $38,450,000 from the Navy Department--two light cruisers (Savannah and Nashville) and four destroyers (Porter, Selfridge, McDougal, and Winslow).
But Cord's short term of ownership also included the seven-week 1934 strike and the 1935 showdown with IUMSWA which required President Roosevelt's intervention.
On 6 August 1937, all of the assets of the Cord Corporation, NYSB included, were sold to "a banking group comprising Emanuel Co. and Schroeder, Rockefeller Co."
Aviation Corporation (1937-1953)
Victor Emanuel and London banking firm J. Henry Schroeder & Co. had collaborated in the 1930s in the creation of a 20-state, $1 billion electric utility empire. Emanuel made Aviation Corporation the centerpiece of a new conglomerate which built 28,000 aircraft during World War II. After the war, Aviation Corporation became Avco, diversifying into consumer goods, farm equipment, and broadcasting. Always sensitive to changing tides, Emanuel responded to the drying-up of military spending by shedding Consolidated Vultee in 1947 and NYSB in 1953.
Louis Wolfson and Merritt-Chapman & Scott Corporation (1953-1966)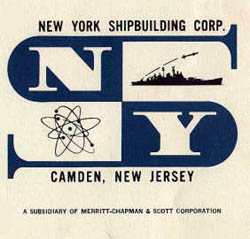 Notorious "corporate raider" Louis E. Wolfson (U.S. Wolfson Brothers Group)and a group of "individual investors" acquired control of NYSB from Avco on January 30, 1953, and would retain ownership through the struggles and decline of the yard's last decade. Wolfson's own future was just as clouded, as he would be tried and convicted on Federal charges in both 1967 and 1968--the former for illegal stock sales, the latter for perjury and obstruction of justice in an SEC investigation of Merritt-Chapman & Scott.
Merritt-Chapman & Scott had been created out of a merger of three small marine salvage companies. Wolfson successfully took over the firm in 1951, and with him as chairman of the board it moved into heavy construction and grew into the cornerstone of his business empire, capturing sizeable contracts on projects as diverse as the Glen Canyon Dam, the Chesapeake Bay Bridge-Tunnel, and the Mackinac Bridge. MC&S became the umbrella for Wolfson's growing and increasingly diverse conglomerate, with new acquisitions--such as NYSB--installed as subsidiaries.
---
to Yorkship: The Ships
your Yorkship memories to Michael Kube-McDowell, Class of '68