A Place Called YORKSHIP
My Memories of Fairview
Last revised: 24 Jun 2009
---
I don't know where my story ends. But if there had been no New York Shipbuilding, there would have been no Fairview, and my story would never have begun.
My father, John Franklin McDowell (he hated his middle name, and never used it), was born in 1928, the only child of Edna Ketlar and John McDowell. He grew up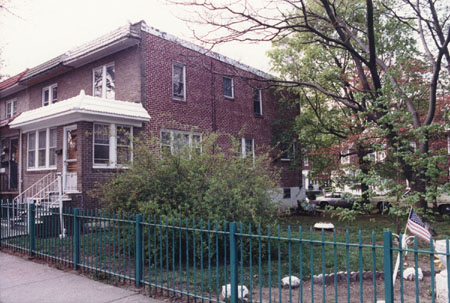 at 2787 Yorkship Road, which sits at the north end of a long row of houses, where Yorkship meets Tuckahoe.
While the house is as narrow as most on the street--about 18 feet wide--my grandparents enjoyed two luxuries most of their neighbors did not: windows on a third side of the house, and a side yard.--a large one, by Fairview standards.
Somewhere in a box in a cluttered closet my mother has photos of myself and my older sister as toddlers running in that grassy yard. Grandmom McDowell looked after us while my mother worked, and Edna relished the chance to impose her idea of proper childrearing on us. But my grandparents McDowell moved to Pompano Beach, Florida, when I was six, and after 45 years my clearest memory of that house is of the living room and my grandfather's armchair, smelling of Naugahyde and cigars.
My grandparents' living room windows looked out across the side yard to the Lutheran Church and the camelback bridge over Newton Creek. The church was our family's church, and the bridge was, for most of my childhood, the edge of the world. When I ventured beyond Fairview, it was to Gloucester, or Collingswood, or Audubon--not Morgan Village.
---
My mother, Lilian Patricia McDowell (she hated her first name, and rarely used it), was born in 1931, the younger daughter of Pauline Feist and Dayton Deich. She grew up at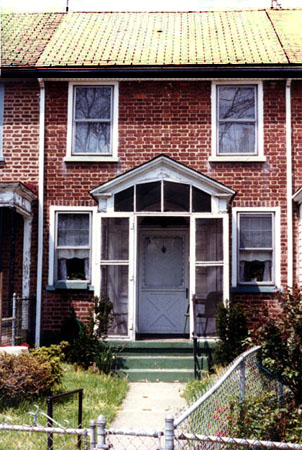 1079 Ironsides Road, a sliver of a house--just 16 feet wide--around the curve from Kearsarge Road. This household figures prominently in the movie of my childhood, second only to my own. Many group family photos--especially at holidays such as Easter--were posed in front of the little porch at 1079 Ironsides.
But I never met Grandmom Pauline--she died in Cooper Hospital in 1948, when my mother was 17, six years before I was born. My "Grandmom Deich" was my grandfather's second wife, Violet Dorothy Danielson--daughter of another Fairview family, from 2805 Tuckahoe Road. Grandmom Violet was a warm, generous woman who made the Deich house a welcoming place for my sisters and me. I can't recall her raising her voice to us, let alone her hand.
Grandmom and Grandpop's tiny house was full of curiosities. It had a milk door and a mail chute beside the front door, and a laundry chute from the second floor to the basement. The stairs were steep and narrow, and divided the front rooms from the back. The bedroom ceilings had funny angles due to a low roofline. The outside entrance to the basement was a pair of metal storm doors covering a creepy concrete stairway.
Grandpop Deich's great love was fishing. He kept his 6' aluminum rowboat and oars on the tiny back porch, and raised worms in a huge tank of coffee grounds in the basement. There were fish and photos of fish on the kitchen wall, and when I was old enough Grandpop would pack me, the boat, an aluminum creel, our rods and rackle boxes, a gallon of ice water, and a lunch prepared by Grandmom into his Studebaker Lark wagon for a day's outing on Union Lake or Malaga Lake.
---
More to come...
---
Page created 8 May 2006

to Yorkship Main Page

your Yorkship memories to Michael Kube-McDowell, Class of '68